Project management
Why are project management methodologies necessary?
Suitable to solve unique and complex tasks
Because of detailed project plans, task's time and resource requirements can be determined more precisely
Optimized costs
Guaranteed quality of project products
Project documentation ensures transparency
Provides opportunity for individual and organizational learning
Project management steps
As a professional project manager, our task is to integrate, coordinate and support work of the project members, in order that project objectives should be achieved in the expected quality, within the predicted budget and time. We focus on communication, obtaining and sharing information with project stakeholders, so that we perform our task at a high quality.
A deliberated plan is the key during project implementation. Stakeholders' expectations, project product's quality and quantity requirements, project tasks and relationship between them, detailed schedule and budget, members' tasks, used tools, risks and the method of risk management are all have to be determined in the project preparation phase.
During implementation phase, in order to keep budget and schedule plans, we are in a continuous contact with stakeholders. Regular reports are required, where potential problems and delays might detect, so their early correction allows to achieve original objectives.
One of the most important result of projects led by experts is the summary of project experiences, what can be used during later activities.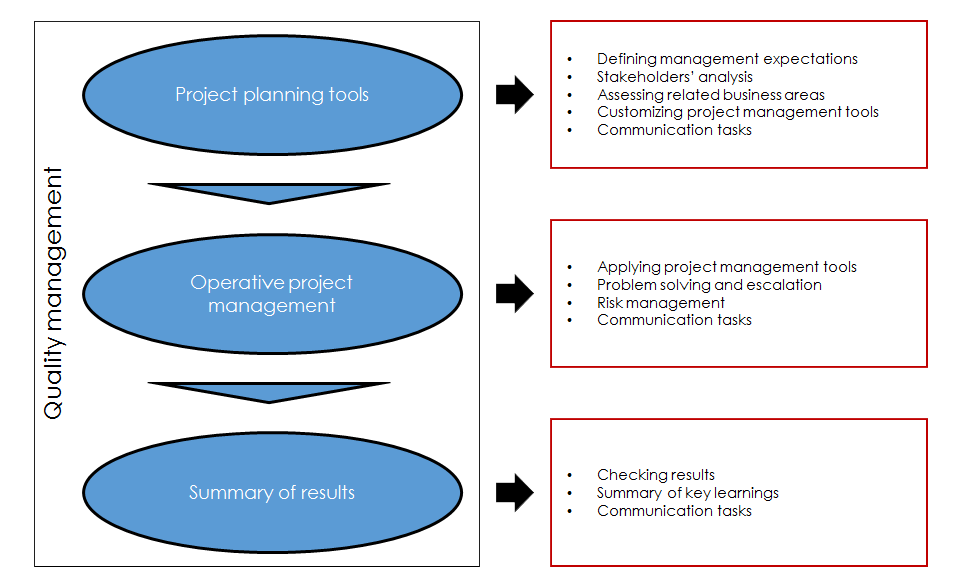 Why is it useful if the management of the projects carried out by an external project manager?
Represents Client's interests efficiently
Uses previous experiences and best practices
Independent and objective
Reveals internal formal/ informal relationships – with a guarantee of independence from them – if necessary
Focus on project management – do not ties up with operational works
Particularly pay attention to communication
Perform quality assurance as well